WCA 10 years special event by COTA-PA
Home Page: https://www.cotapa.org
---
 Diploma WCA 10 years by YT2KID
10 years of the World Castles Award (WCA) program foundation and 630 years from the Vidovdan PROPOSAL for June 2016
1. Organizers
RUSSIA-SERBIA & RN1CW — YT2KID
2. Participants
All licensed ARS station

3. Time
From 01.06.2019 to 30.06.2019
4. Data exchange
WCA references
5. Special calls
4x10WCA – 9A10WCA – DR10WCA – EM10UCF – EN10UCF -EO10A – ES10WCA – EV10WCA – HB10WCA – HG10WCA – LY10WCA – LZ10WCA – OE10WCA – OH11WCA – OL10WCA – OR10WCA – OS10WCA – OT10WCA – PA10WCA- -PB10WCA – PC10WCA – PD10WCA – PE10WCA – PF10WCA – PG10WCA – PH10WCA – RZ1CWC – S510WCA – SP10WCA – TM10WCA – YT10WCA – YU10WCA – Z310WCA.
6 Other stations that work from fortresses in the June period and those venues for award points.
7. Points
Special stations give 10 poins (it is counted only once). Other stations that work from fortresses in the period from 01 to 30 June 2019, bring in 5 points. Collect points.
8. Prizes  (in pdf-format)
1 place – Zlato DIPLOMA
2 place – Srebro DIPLOMA
3 place – Bronza DIPLOMA
9. Application should be sent with a total of points not later than 10.07.2019, at the address . There are also info on QRZ.dot com
10. Applicants who take from 3rd to 10th will get certificates.
---
Diploma "10 years WCA in Serbia" awrd by YU10WCA
Call signs of  the WCA Group Serbia, valid for the diploma:
 YT2ZZ, YT4ZZ, YT5FD, YU1CA, YU1TY, YU1WAT and YU2TT
The QSOs with these stations count 2 pts-CW and 1 pts PHONE or DIGI. Repeated QSO is allowed on different band (including WARC) and different mode, within the band.
During the period 1 to 31 July 2019. a special call sign YU10WCA will be active. The QSO with this station counts 3 pts on every band and mode within the band.
Minimum points required for the diploma: 10 pts.
Request for a diploma with a copy of the radio LOG, to be  sent no later than September 10h to email: 
The diploma will be sent back to your email on September 30th 2019.
Send your QSL card directly or via bureau to the QSL Manager YU1CA (qrz.com address)
A special YU10WCA QSL card will be sent for all received QSL cards until December 31st  2019.
Diploma & QSL Manager
Aleksandar Blagojevic YU1CA
---
Belgian "10 Years WCA" award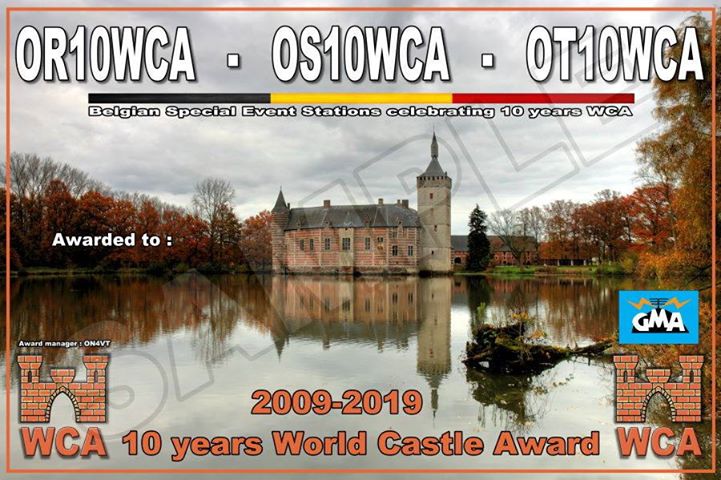 Work 11 different Belgian WCA references with OR10WCA, OS10WCA and OT10WCA during the month of June 2019. At least 1 QSO with each station must be in the log.
Home Page: https://www.cqgma.org
---
"Hlukhiv" award
It is necessary to score 100 points for QSO with hams of Sumy oblast (UR5A).
For QSO with special station EO10A  – 25 points,
for QSO with hams of Hlukhiv, Sumy oblast – 10 points,
for QSO with other hams of Sumy oblast  – 5 points,
QSO with E10A is obligatory.
Valid QSO made on any bands and by any modes. For QSO on 50 Mhz and upper  points are doubled.
Awards is issued in electronic form and send by e-mail.
Application should be sent in CABRILLO format by e-mail to Award manager UT8AS ut8as(at)i.ua
---
World Castles Weekend 2019 by COTA-DL group

As WCA has the 10year jubilee in 2019 the world-castle-weekend was extended to the period of 01.-30.june 2019. To improve also the number of activities from german castle COTA-team-germany offers the WCW-activator-award 2019. A minimum of 5 different castle locations in germany needs to be activated with a minimum of 50 contacts each, so altogether 250 contacts (of course more would be fine). The award can be applied by sending a list of the 5 different german castle locations to the log-address. Also the logs needs to be delivered as ADI-file.
73,11, COTA-Team-Germany
---
SP10WCA special award by SP9YFF
Info and log search for download award at: http://sp9yff.w.of.pl
---